UK Natural Heritage Sites
Yorkshire Dales National Park
Acoustic Atlas aims to digitally preserve the acoustical heritage and soundscapes of 3 UK nature sites: Yordas Cave, Victoria Cave and Ingleborough Cave.

The recovery of the acoustics of these caves is particularly important in terms of their archaeological, geological and acoustic information. From a scientific point of view, many caves (e.g. Victoria Cave) are time capsules, with flora, fauna, bacteria, minerals and fossils that hold treasures from an immensely large timescale compared to human life on earth.

Additionally caves present themselves as archives for understanding peoples' mythological landscapes and how they have evolved. Victoria Cave produced prominent artifacts, including evidence of the first humans in the Dales starting in 12,500 BC. All three caves present repeated evidence throughout the centuries of mortuary activities indicating that people used the Dales caves to mediate with the spirit world. By the Romano-British, AD 100 to 450 period, various Roman military accoutrements were found around Ingleborough Cave and the inside of Victoria Cave was used as a shrine and there was a workshop area outside.

Previous archaeoacoustic research has pointed out that our ancestors would have interpreted sounds such as echoes as supernatural phenomena and the voices of spirits. Both Yordas Cave and Ingleborough Cave have connecting shafts and tunnels to neighboring caves, with the possibility of producing such echoes and coupling phenomena.

All of this contributes to making these sites excellent case studies for bridging scientific and archaeological research with sound art. The historical evidence provides inspiration for connecting past with present, whilst the acoustic characteristics are compelling compositional material.
Yordas Cave Kingsdale, North Yorkshire, England
Carved out by a glacier leaving steep sides of limestone. The main chamber is 20m wide, 60m long and 20m high.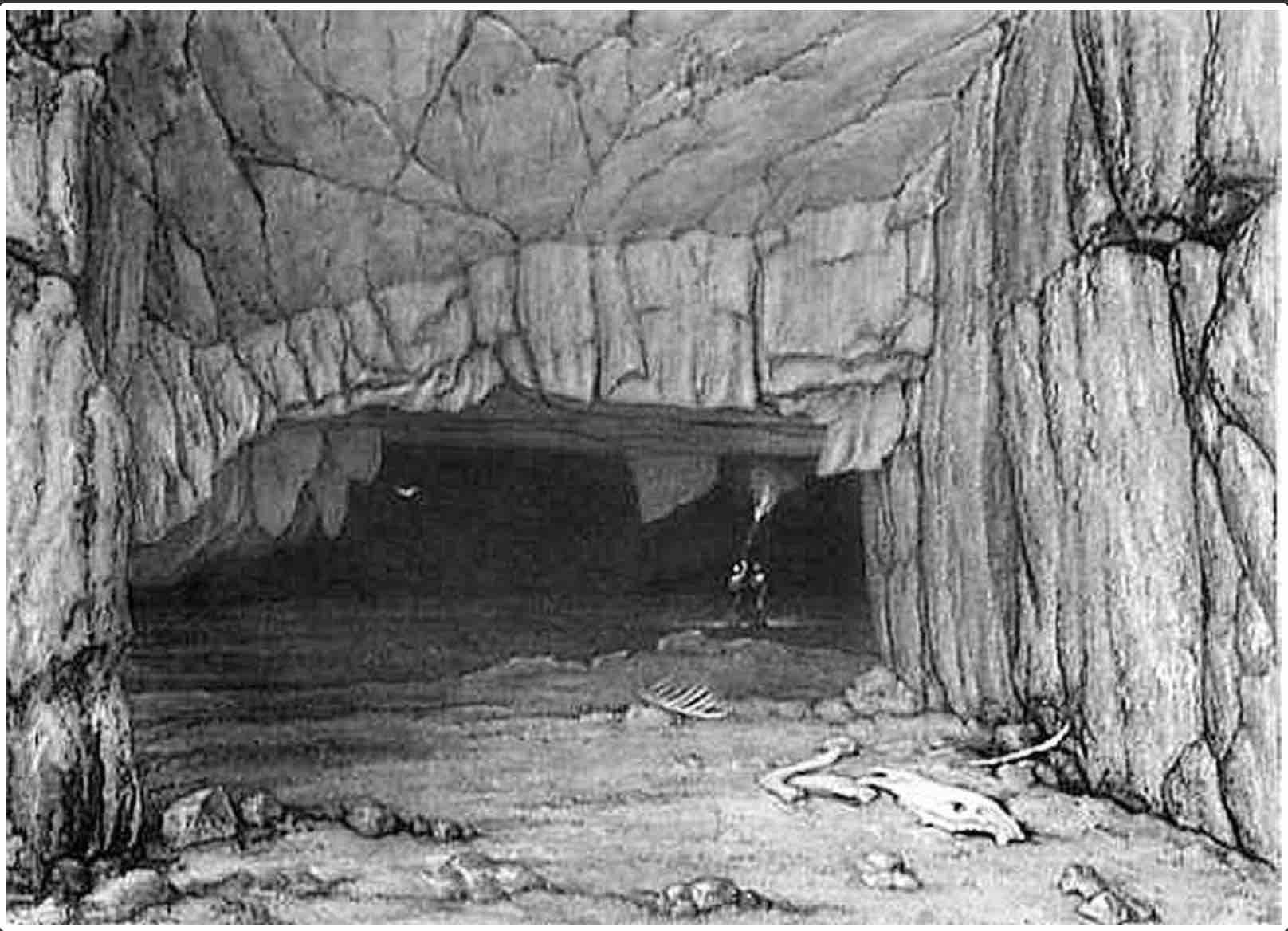 Main Chamber in the Yordas Cave, from "Views of the caves near Ingleton, Gordale Scar and Malham Cove" by William Westall, published by John Murray 1818. Copied from here. According to showcaves.com, it is said that some of the places in Wuthering Heights by Emily Brontë are originaly in Yorkshire and that Emily's Fairy Cave would be Yordas Cave.
Victoria Cave Yorkshire Dales, England, UK
Limestone, the cave is ~50m in length. It contains several calcite flowstones.
"The sands and gravels of southern Lancashire and Cheshire were deposited after 28,000 BC and it seems likely that the retreating ice freed virtually all of northern England, apart from the Lake District and some parts of the adjacent high Pennines by about 10,000 BC. We know that Scandinavian Ice perhaps 50 miles off the present east coast deflected the ice which flowed down Teesdale around Flamborough Head where it and other materials built up Holderness. Once that ice began to melt, the lake which covered the Vale of York was able to flow down the Humber. Unlike the caves in southern England or even those in the Cresswell Gorge area which were south of the last (Devensian) ice front, Victoria, Jubilee, Dowkerbottom and Gaping Ghyll were close to the top of the ice mass while other caves were completely buried. Though the ice wasted away locally and was replaced by tundra conditions it still existed further north and generated a high pressure feeding continuously freezing winds. These blasted the north of England so that the early exploratory hunting groups of the Late Upper Palaeolithic period would have been grateful for the cave's shelter." From
Palaeolithic Yorkshire – Victoria CaveGeology, t
he Yorkshire Archaeological & Historical Society.
Ingleborough Cave,
Yorkshire Dales, England, UK
Limestone, the show cave sections is a 500m long and spacious passage with further
narrow tunnels and connections to other caves.
---
This project has received funding from the European Union's Horizon 2020 research and innovation programme under the Marie Sklodowska-Curie grant agreement No 897905.
Cultivating the Capacity to Listen