Acoustic Atlas is a multi-faceted project that combines acoustic studies, sound art, visualisation art, sound ecology, archaeology, heritage fields, VR, AR, spatial audio, interactive design, map making and music. This page aims to give descriptions of how these fields apply and combine to form something unique.


---
About Auralisation
The sonic component of the virtual reconstruction of a site is termed 'auralisation'. For example, a person recorded singing in an anechoic chamber (an acoustically dry space, with no sound reflections), can be made to sound as though they were singing in a large cathedral, or a cave or any given acoustic space for which the data is available..
Acoustics provide important real-time spatial information about the environment: sound cues such as perceived loudness, spatial position, reverberation and perceived distance, are intuitively interpreted by humans to make sense of the size and shape of their environment.
About the slogan: 'Cultivating the Capacity to Listen'
In the light of 'urgency of climate change', Donna Haraway responds with the creation of the term 'sym-poiesis' - a
making together
as well as '
response-
ability
' which is a '
cultivation through which

we render each other capable,

that

cultivation of the capacity to respond'
. (Anthropocene, Capitalocene, Chthulhocene - Donna Haraway in conversation with Martha Kenney,
p255).
Acoustic Atlas renders us capable, to listen. We take action (respond) through active listening - rendering each other capable to listen. By doing so, we refine our ability respond better. The project is a
sym-poiesis
of virtual acoustic map making, not only of heritage sites, but containing the history, mystery and consciousness surrounding and embedded within each site and what that mirrors in our imaginations. The cultivation of the capacity-to-listen-to and connect beyond time and space.
Acoustic Atlas invites people to sing into virtual acoustic caves (and into a virtual darkness). Such an experience allows for a phenomenological connection with the remote site and meditative pondering of meaning, listening and play.
Acoustic Atlas is a virtual acoustic map making project with a social engagement agenda. Conservation as creative participatory journey.

How to record the acoustic characteristics of a space?

Preservation is done by collecting room impulse responses (RIRs) of each cave, to enable the creation
of auralisations.

To collect the room impulse responses (RIR), a sine-sweep test signal is played through a loudspeaker and recorded through an Ambisonics microphone. This
allows the researcher to capture the spatial characteristics of each location. For a full study of each space, the researcher will choose a set of source and receiver positions.

The source positions are where the loudspeaker will be positioned and correspond to parts of the space in which natural or artificia sources are present. The receiver positions correspond to listener positions. A room impulse respons is captured for every source-receiver combination, allowing for a full acoustic mapping of each space. In the context of intangible heritage, virtual reconstructions of world heritage sites are becoming increasingly useful to allow for multi-sensory immersive access, research and conservation.


Acoustics as Musical Material




UK Natural Heritage Sites
Yorkshire Dales National Park
Acoustic Atlas aims to digitally preserve the acoustical heritage and soundscapes of 3 UK nature sites: Yordas Cave, Victoria Cave and Ingleborough Cave.

The recovery of the acoustics of these caves is particularly important in terms of their archaeological, geological and acoustic information. From a scientific point of view, many caves (e.g. Victoria Cave) are time capsules, with flora, fauna, bacteria, minerals and fossils that hold treasures from an immensely large timescale compared to human life on earth.

Additionally caves present themselves as archives for understanding peoples' mythological landscapes and how they have evolved. Victoria Cave produced prominent artifacts, including evidence of the first humans in the Dales starting in 12,500 BC. All three caves present repeated evidence throughout the centuries of mortuary activities indicating that people used the Dales caves to mediate with the spirit world. By the Romano-British, AD 100 to 450 period, various Roman military accoutrements were found around Ingleborough Cave and the inside of Victoria Cave was used as a shrine and there was a workshop area outside.

Previous archaeoacoustic research has pointed out that our ancestors would have interpreted sounds such as echoes as supernatural phenomena and the voices of spirits. Both Yordas Cave and Ingleborough Cave have connecting shafts and tunnels to neighboring caves, with the possibility of producing such echoes and coupling phenomena.

All of this contributes to making these sites excellent case studies for bridging scientific and archaeological research with sound art. The historical evidence provides inspiration for connecting past with present, whilst the acoustic characteristics are compelling compositional material.
Yordas Cave Kingsdale, North Yorkshire, England
Carved out by a glacier leaving steep sides of limestone. The main chamber is 20m wide, 60m long and 20m high.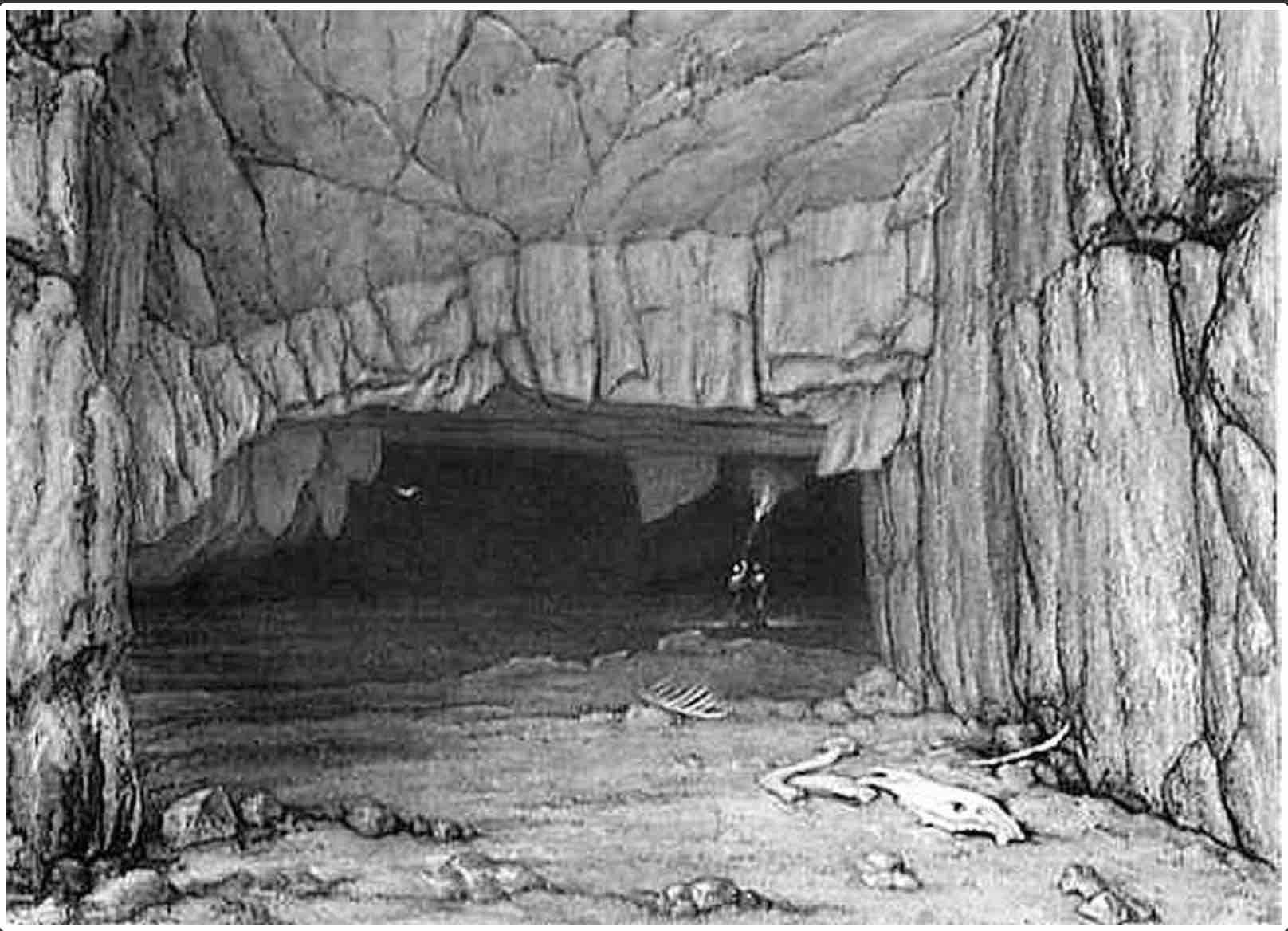 Main Chamber in the Yordas Cave, from "Views of the caves near Ingleton, Gordale Scar and Malham Cove" by William Westall, published by John Murray 1818. Copied from here. According to showcaves.com, it is said that some of the places in Wuthering Heights by Emily Brontë are originaly in Yorkshire and that Emily's Fairy Cave would be Yordas Cave.
Victoria Cave Yorkshire Dales, England, UK
Limestone, the cave is ~50m in length. It contains several calcite flowstones.
"The sands and gravels of southern Lancashire and Cheshire were deposited after 28,000 BC and it seems likely that the retreating ice freed virtually all of northern England, apart from the Lake District and some parts of the adjacent high Pennines by about 10,000 BC. We know that Scandinavian Ice perhaps 50 miles off the present east coast deflected the ice which flowed down Teesdale around Flamborough Head where it and other materials built up Holderness. Once that ice began to melt, the lake which covered the Vale of York was able to flow down the Humber. Unlike the caves in southern England or even those in the Cresswell Gorge area which were south of the last (Devensian) ice front, Victoria, Jubilee, Dowkerbottom and Gaping Ghyll were close to the top of the ice mass while other caves were completely buried. Though the ice wasted away locally and was replaced by tundra conditions it still existed further north and generated a high pressure feeding continuously freezing winds. These blasted the north of England so that the early exploratory hunting groups of the Late Upper Palaeolithic period would have been grateful for the cave's shelter." From
Palaeolithic Yorkshire – Victoria CaveGeology, t
he Yorkshire Archaeological & Historical Society.
Ingleborough Cave,
Yorkshire Dales, England, UK
Limestone, the show cave sections is a 500m long and spacious passage with further
narrow tunnels and connections to other caves.




Kefalonia


SEA(S)GRANTS, Ionion Centre for the Arts and Culture, Kefalonia, Greece.
The Ionion Centre is a kind supporter of this project. With their support we aim to take acoustic measurements in the Mellisani Cave Lake as well as to do field recordings in various places on the island.
In 2018, I attended 'Resound,
Sound and Space Research',
organised and curated by Sandra Volny and hosted at the
Ionion Centre for the Arts and Culture
in Kefalonia Island in Greece. We shared a very special time, listening, recording, sharing and exploring ideas around listening, sound ecology, poetry of sound and space with each other. The group consisted of Danish sound artist Jacob Kirkegaard, Frouke Wiarda, Marie-Douce St-Jacques, Andrea-Jane Cornell, Claudia Mattai del Moro, Pierre Leichner, Simon Belair and me.
During this time I created a water video piece about the Ionion Sea: a silent witness of the hopes, struggles and often inhumane moments as they reveal the worth of life in the context of migration.
I used some of these recordings to create an 'abstract' sound experience inside the acoustic atlas, where I used hydraphone and water recording as fake impulse responses, so the listener can convolve their voices with water instead of the typical acoustic reflections. This opens up a very interesting poetic/artistic dimension, both conceptually and sonically.
In the atlas, click on Kefalonia to navigate to these two fictional sites.
12.09.2020
Building the Acoustic Atlas Community
One of the main goals of Acoustic Atlas is to get acoustic data from heritage acoustic researchers to expand the data base and build awareness and community around this topic.
So far Acoustic Atlas has reached out to various groups and I will post a weekly update of researchers who will join.
For the first premiere of Acoustic Atlas at the Webaudio conference 2019 in Trondheim, MSC researcher
Dr. Lidia Alvarez's Cathedral Acoustics generously
provided room inpulse response recordings of Bristol Cathedral, Ely Cathedral, York Minster Cathedral and Ripon Cathedral.
Listen here.
Lidia is a specialist in architectural acoustics and the acoustics of heritage buildings. She has extensive knowledge of acoustics analysis and virtual acoustics. What you hear in this first version for each cathedral, are single point source/listener impulse response positions. Lidia's measurements, include much finer details than are presented inside the Acoustic Atlas. Read more about her research,
detailed
source/listener positions and analysis for each site that she worked on. I hope to collaborate with Lidia in the future, to add more source/listener positions for each cathedral and learn a lot more about the vast acoustic nuances she discovered and focused on.
01.09.2020
Acoustic Atlas kicks off its collaboration with the University of York
Looking forward to two years of developing this project, together with Dr Mariana Lopez in the
Department of Theatre, Film, Television & Interactive Media
and some advisors and collaborators in
the Audio Lab
, at the University of York.
The first stages of Acoustic Atlas will be to visit the first 3
sites
: Yordas Cave, Victoria Cave and Ingleborough Cave.
The UK Caving community has already been extremely friendly and helpful giving advise and assisting planning. The Yorkshire Dales National Park has given a green light for the field work to continue. Ingleborough management is also supportive!
Now the real challenges are to vist and plan the recording process.
Acoustic measurements in caves need a lot of consideration.
In parallel, I am sending out the first invitations to archaeoacousticians to contribue their work.
The acoustic web application is also undergoing a make-over. I hope to have the new version up and running by the end of the year.
---
Cobi van Tonder
Mariana Lopez


Acoustic Atlas is hosted at the Department of Theatre, Film, Television & Interactive Media at the University of York from Sept 2020 - Aug 2022.


Department of Theatre, Film, Television and Interactive Media
University of York, Baird Ln, Heslington, York, YO10 5GB



---
This project has received funding from the European Union's Horizon 2020 research and innovation programme under the Marie Sklodowska-Curie grant agreement No 897905.
Cultivating the Capacity to Listen